The road from Florida to Tampere takes you
The story of the winged weaves began in 1984 at Pompano Beach, Florida. Pekka Yli-Houhala, a restaurateur from Tampere, was recommended a local wing restaurant on the trotting trip. The taste of the wings carried away. On the trip, the wings were used to feast on the southern heat every day after the experiment. In Finland, wings were not appreciated at the time, which is why the establishment of a wing restaurant was initially doubtful, but the piloting of the wings carried out in the restaurant proved the prejudices wrong. In 1993, the first Siiweikot restaurant was established on Aleksanterinkatu in Tampere, where the first Siiweikot restaurant is still located.
In the first years of operation, the business focused on the restaurant business. With the great popularity of the sauce for winged weaves, the sauce began to be sold to other restaurateurs as well. Over time, the popularity of sauce sales has grown year by year, and nowadays sauce can be bought not only in the Siiweikka online store, but also in almost every grocery store.
Siiweikot is now a nationally known family business that employs about 50 people. The company currently has four of its own restaurants in the Tampere region. In addition, they have two franchised restaurants and in the future the franchise business is set to grow even further. The sauce business supports its own use and manufactures the product for sale to corporate customers – the company has hundreds of corporate customers in Finland and a few abroad.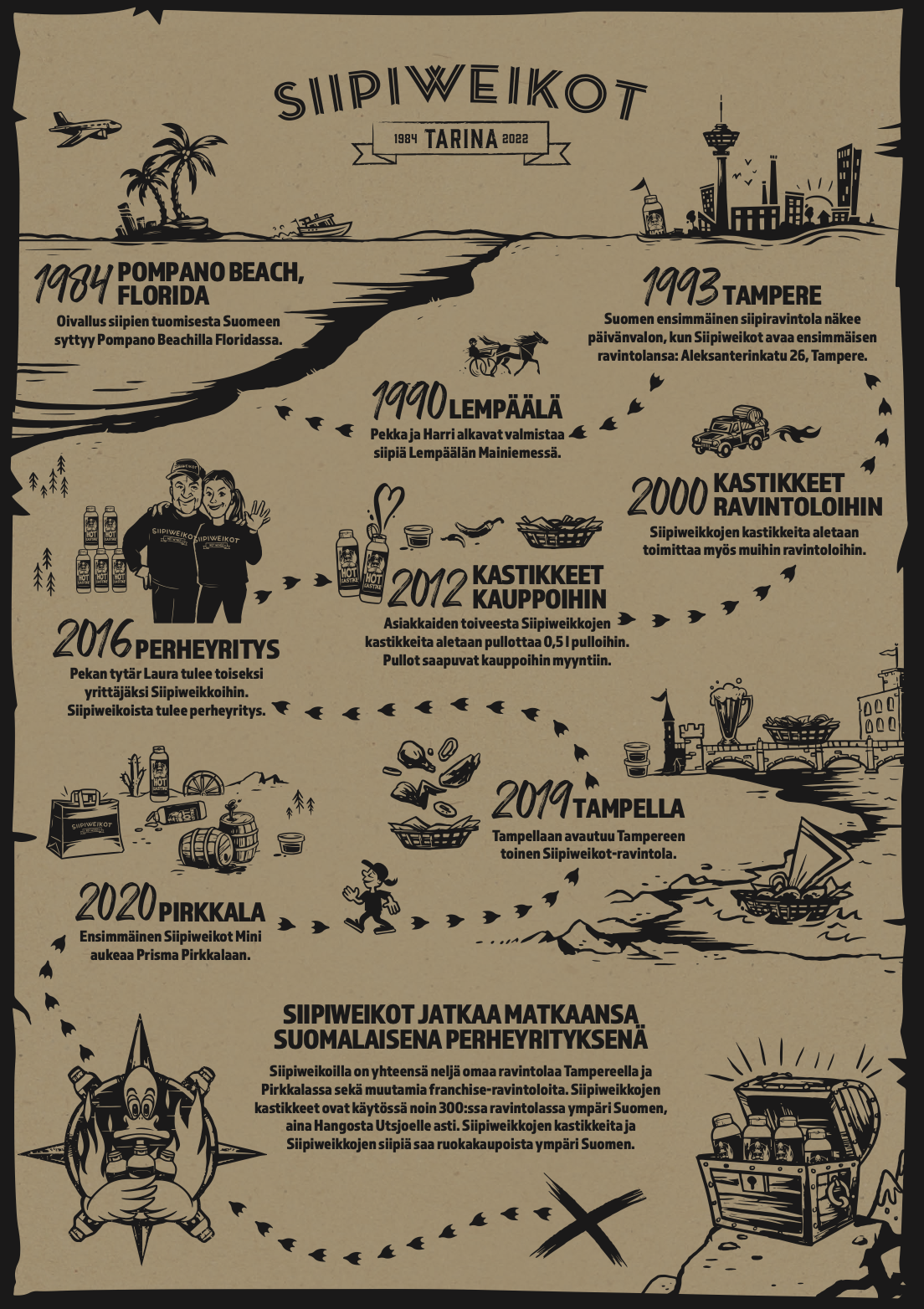 "No information was updated anywhere and that was the biggest challenge"
Anniina Patteri, Business Controller of Siiweikko, says that the company had many good software at its disposal for years. However, compiling data from different software for reporting and planning manually, among other things, began to become tedious as the business grew to a certain level. When none of the software talked to each other smoothly, the search and combination of data from many different software had to be done manually.
Valuable working time was spent combining, calculating and updating the data. The risk of error due to manual work was significant. Before each monthly meeting, data was compiled daily, and it could take a day to combine and calculate the data, and sometimes another.
"No information was updated anywhere and that was the biggest challenge. Moreover, this kind of work was slow and also cost a lot because of it. The information was never up-to-date, and if an error occurred somewhere, it was time-consuming and laborious to check," Patteri says.
Therefore, the company decided that it was time to get acquainted with modern solutions that could be integrated with each other.
Automation saves significant savings in financial and payroll administration processes as well as in business planning and reporting
After exploring the alternatives, Siiweiko decided to choose Procountor as the financial management software. Finadeck was selected for reporting, budgeting and forecasting, and through its ready-made integrations, all the necessary information can be retrieved automatically from Procountor, Restolution and The Shift Wizard. After seeing the functionalities of the software, it was clear that Procountor and Finadeck will enable the automation of manual work phases until then.
"We liked the possibilities that these software made possible. For example, in Procountor, different price lists and products can be stored behind customer relationships, which make financial management really smooth," Patteri says.
Previously, the problem was software incompatibility, so now there was a desire to invest in integrations and automatic data flow. In particular, the integrations of Procountor and Finadeck between the POS system Restolution and the time tracking software Shift Wizard are important.
"With smooth integrations, the flow of information is fast and, above all, reliable. We can drive all the data we need directly to Finadeck. With it, reporting is real-time and supports us in decision-making," Patteri rejoices.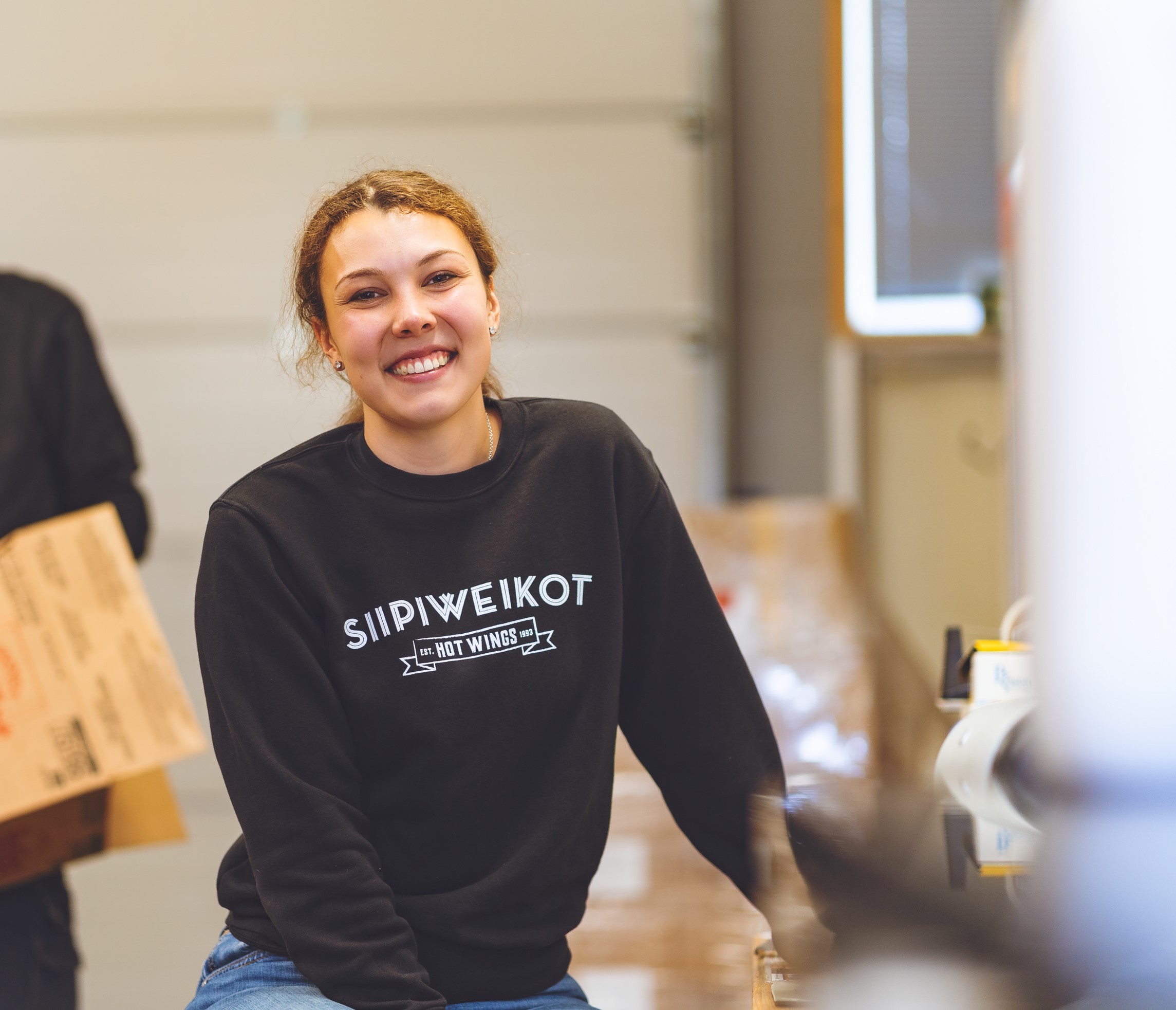 Hot Wings Oy's Business Controller Anniina Patteri
The integrations of the POS system also enable smooth monitoring of net sales and other key indicators, so there is no need to wait until the end of the next month as before. With the help of e-commerce integration, invoicing is also handled automatically, so the number of work phases has dropped radically.
Since the company has several locations and different business functions, the versatility of the monitoring is important. For example, cost center tracking and restaurant monitoring are important to see how different restaurants are doing in terms of financial and operational indicators, such as revenue and margins per hour worked. In addition, restaurant-specific sales monitoring of products and product groups plays an important role.
The benefits of the new systems can also be seen in restaurants. The data entered into the shift wizard is transferred directly to Procountor's payroll, so restaurant managers can be confident that salaries and payslips will go correctly. In the past, data had to be checked several times and the data had to be recorded manually. In this way, working time and nerves are saved in many places.
"Finadeck has made reporting a lot easier, as you can search for everything you need with a couple of clicks"
Finadeck has helped the company a lot through up-to-date reporting.  The company's CEO has also praised the fact that the efficient and modern reporting tool has brought a lot of concrete help in making decisions.
"Finadeck has made reporting a lot easier, as with a couple of clicks you can retrieve margins from different time intervals and compare them easily with each other. In addition, a lot of budget monitoring is done, and Finadeck's view is really clear for this, because the necessary information can be displayed side by side. Finadeck has succeeded in everything we have come up with asking for," Patteri praises.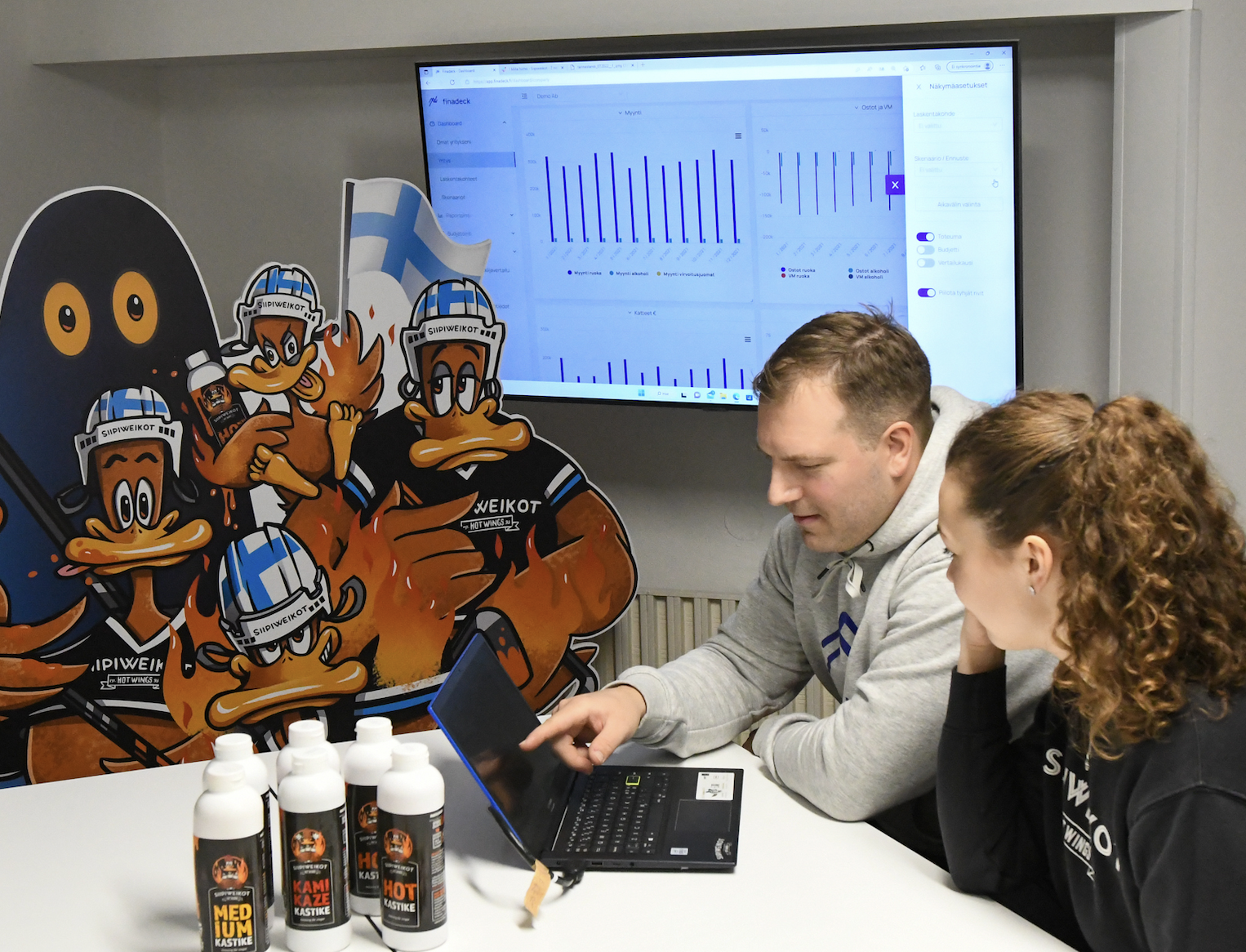 From left to right, Finadeck's CEO Saku Pöllänen and Hot Wings Oy's Business Controller Anniina Patteri
Finadeck's customer service also receives a top rating. "I rate customer service as a full 10+, because you always get an answer and the help you need. Any bugs will also be fixed right away, so the customer will be taken into account very well," Patteri praises.
With Finadeck, the development of the company's and restaurants' finances, operational indicators and sales can be monitored conveniently. All key figures are available quickly and in real time as Finadeck converts the data retrieved from Procountor, Restolution and Työvuorovelho into an easy-to-understand format. The difference from the previous Excel workout is huge.
Finadeck has also made budgeting and forecasting easier
In addition to reporting historical data, Siiweikot also uses Finadeck in budgeting and forecasting. When you run a complex of several restaurants, anticipation plays an important role. Where and when employees are needed and how resources should be allocated. Questions such as where and how future investments will be financed also arise from time to time. With Finadeck, calculations can be compiled in an agile manner and the reports can be drilled down to the operational level. Reports sent to e-mails also facilitate timely access to information.
"It was important to us that each user could customize the views with their own level of information. Some people want more detailed details and key figures, while others don't want it," Patteri says.
Together with restaurant managers, the wingers have designed and built restaurant monitoring reports, which allows restaurant managers to get all the data they want in one report. In addition, restaurant managers get to drill down into the figures directly from their own views. In the same way, a custom view has been created for the account manager so that he can easily track sales. Finadeck can be used to support the level of financial literacy of different people.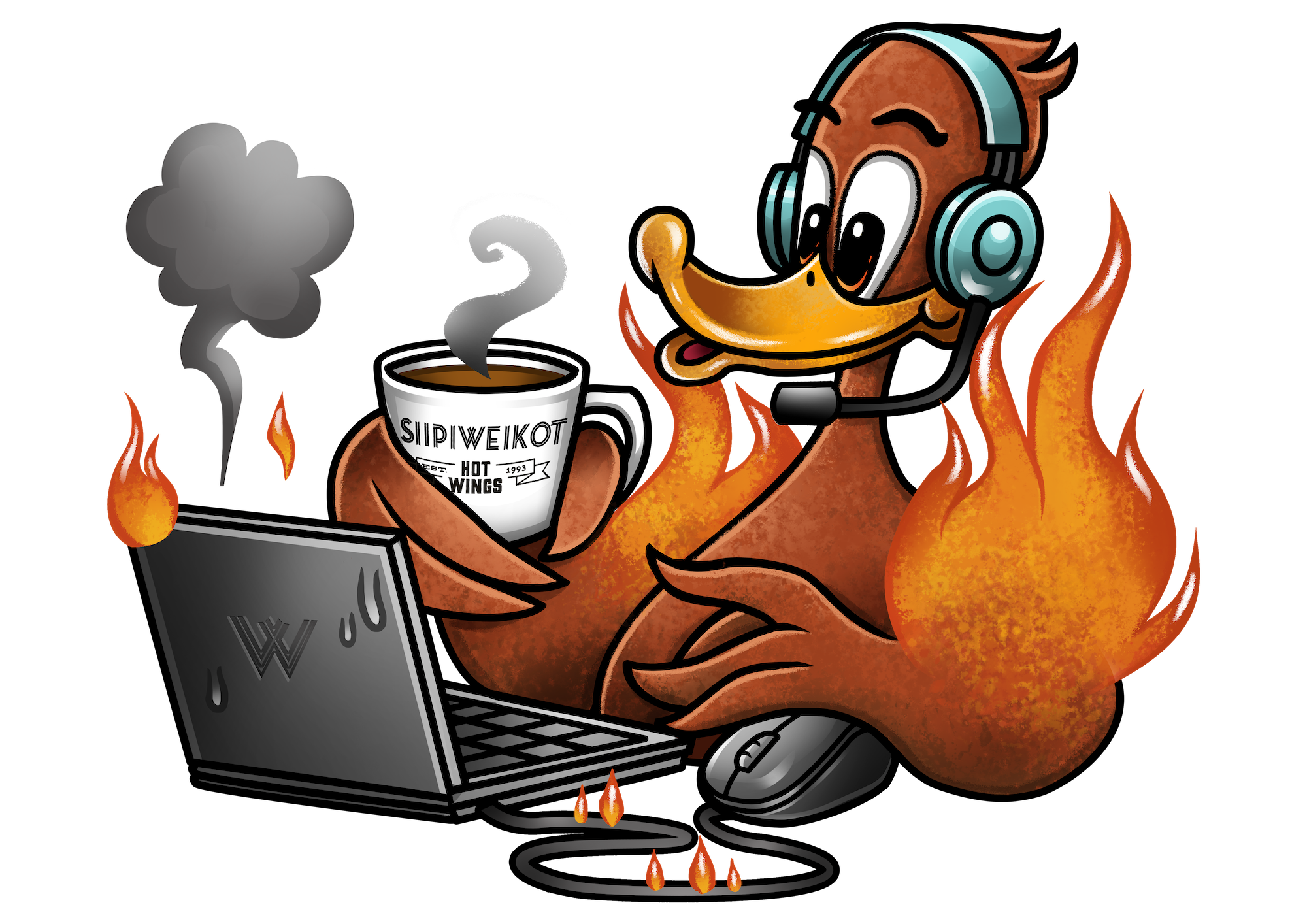 Modern and easy-to-use solutions help the entrepreneur
The introduction of the new tools went smoothly at Siiweiko." The implementation of Finadeck and Procountor was easy and did not take much time. For example, exporting customer and product registers was easy and fast, but of course it always takes time to clean up the data. However, it is not difficult for an entrepreneur, as working with an accounting firm goes smoothly," Anniina says.
According to Anniina's experience, Finadeck's implementation training was really good, as it helped her understand how the tool works. Now it's easy for them to continue learning in practice. Anniina has built her own combination KPIs and report frames after the training, mainly on her own. At Finadeck, you can do a lot yourself, and at the same time learn and understand the software better. Finadeck can be customized according to your own needs, and help is always available when needed.
Anniina says that she is happy to recommend Procountor and Finadeck to other companies in the restaurant industry as well. In the future, the new franchisees of the Wingweiks will have access to a ready-made package. Patteri sees that the advantage of the current solution lies in the fact that it is ideally suited not only for a financial management specialist, but also for a person who is unfamiliar with the world of financial management.
"With Procountor and Finadeck, they can focus on their own expertise and running the restaurant," Anniina concludes.